By Jeff Eager, Waste Alert Founder/CEO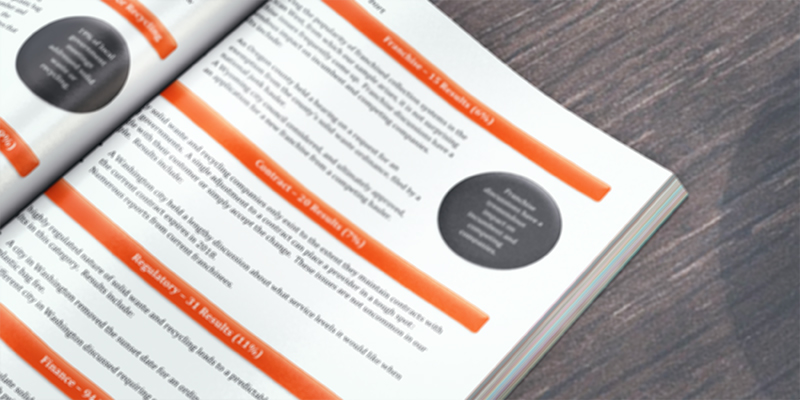 The solid waste and recycling industry is intertwined with local government at many levels. From the very right to conduct business, to facility ownership and management, to the days of the week and the time of day waste and recyclables can be picked up, businesses are reliant upon cities and counties.
While the relationship between solid waste and recycling companies and the jurisdictions they serve is often a good one, sometimes it's not. And when things go badly, they can go very badly indeed.
I used to be a mayor of Bend, Oregon, so I've seen how cities can make decisions – sometimes big decisions – on incomplete information. As a practicing attorney specializing in solid waste and local government cases, I know that problems with local government can be very costly to solid waste and recycling businesses.
I started Waste Alert to help give solid waste and recycling companies actionable information about what the cities and counties they care about are up to on a real-time basis. We've been at this for around a year now, and we've been asked, how often do these issues come up in meetings? It's a good question, so we crunched the numbers, found some interesting trends, and wrote the Waste Alert 2016 Report.
In 2016 we reviewed 1,434 agendas and minutes related to 752 local government meetings. Our focus was laser-sharp: identify solid waste and recycling actions and discussions. To our knowledge, it's the first comprehensive report of local government activity on solid waste and recycling issues that's ever been compiled.
The Waste Alert 2016 Report analysis found that 19% of local government meetings addressed solid waste or recycling topics. That's approximately one in five meetings that contain something of interest to our clients. The report results were divided into six categories: direct client and competitor mentions, franchise changes, contract, regulatory, finance, and facilities/infrastructure/planning.
Discussions and actions at the city and county levels ranged from requests for franchise exemptions to plastic bag fees to service concerns. Given the wide range of issues under the purview of local governments, the frequency of solid waste and recycling discussions demonstrates that solid waste and recycling are important and ongoing concerns to local elected officials.
If you're up for reading a report on local government, you're our kind of person. Some would call us crazy, but I think we're smart—and, okay, maybe a little crazy. But when one in five city and county meetings addresses your livelihood, it's smart to pay attention.
Want to know more? Read Waste Dive's review of the Waste Alert 2016 Report, and then download your copy of the Waste Alert 2016 Report to see for yourself what the numbers have to tell us.